KaiserDillon Participated in Take Your Child to Work Day with a Mock Trial at D.C. Superior Court
KaiserDillon participated in Take Your Child to Work Day with a mock trial program for the children of KaiserDillon's employees and presentations about the work of the firm.
Most of the children participating were in middle school or late in elementary school, so the firm had them do a mock trial relevant to their lives. The trial involved a fictional school principal who searched a student's cell phone to investigate vandalism at the school.
"The case raised interesting questions about what rights school kids have. And it required them to think through how to advocate for a position," managing partner Matt Kaiser said.
After a brief presentation about trial advocacy, the children prepared arguments and examinations of witnesses and put on the trial in a courtroom at D.C. Superior Court. They also observed part of a hearing presided over by Judge Jennifer A. DiToro.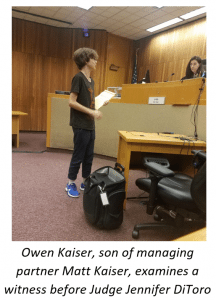 Next, some of the firm's lawyers spoke with the kids about careers in the law, what lawyers do, and how lawyers at KaiserDillon help people with problems before the courts, Congress, and different parts of the executive branch.
Finally, the day closed with a tour of office space KaiserDillon will move into this fall. The office space is still being designed, and the kids gave input on what they thought would create a great office.
And, to be sure that they were left with a positive impression of the firm, the children had plenty of sweets and pizza.